Product Description
Wall mount optical fiber enclosures are ideal in small installations and/or where rack and cabinet mounting is not feasible. Most popu-lar applications include demarcation and consolidation points, horizontal mini cross-connects, centralized optical architecture transi-tion points, etc. Physical protection of such connections and storage of fiber slack are also wall mount enclosure major functions. Sig-namax wall mount optical fiber enclosures termination density ranges between 6 and 48 fiber connections depending on the enclosure capacity (2 or 4 adapter plates) and optical fiber connectors used.
Modular design of Signamax optical fiber adapter plates allows creating flexible connection patterns based on 6-, 8-, 12-, 16- and 24-fiber ST, SC, LC and MT-RJ connector plates, which can be arranged in 2- and 4-adapter groups in any available connector combina-tion. Adapter plates mount easily by means of plunger locks ("pushpins"). All enclosures feature front access hinged doors; two ver-sions are equipped with additional lockable security doors. Internal cable anchor points and fiber slack management mechanisms en-sure reliable cable fixing, safe cable/fiber tension and bend radii.
Steel case and high-impact black epoxy-powder anticorrosive paint provide excellent protection of optical fiber connections. Enclo-sures are supplied with a complete set of fastening elements and installation guidelines.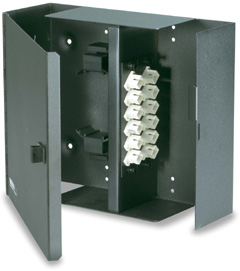 Product Videos
Custom Field
Product Reviews