Product Description
Optical fiber enclosures provide cross- and interconnections in IT cabling systems between optical fiber distribution cables, connecting hardware and active equipment, and for mechanical protection of such connections. UFEHD12-B rack-mount optical fiber enclosure termination density ranges between 72 and 288 fiber connections depending on the number of adapter plates installed, and optical fiber connectors used.
Modular design of Signamax optical fiber adapter plates allows creating flexible connection patterns based on 6-, 8-, 12-, 16- and 24-fiber ST, FC, SC, LC, and MT-RJ adapter plates, which can be arranged in 1- to 12-plate groups in any available connector combination. Adapter plates mount easily by means of plunger locks ("pushpins"). All enclosures feature front and rear access hinged panels and sliding-out support stages. The transparent plastic front panel enables visual inspection of the enclosure contents when closed. Internal cable anchor points and fiber slack management mechanisms ensure reliable cable fixing, safe cable/fiber tension and bend radii. Cable entry points are equipped with rubber grommets preventing dust penetration when the entry point is not used, and protecting optical fiber cable from kinks that sharp edges of the enclosure case may cause.
Sixteen-gage steel case and high-impact black epoxy-powder anticorrosive paint provide excellent protection of optical fiber connections. Optional optical fiber splice trays/cassettes are available when passive uniform interconnection or transfer from buffered to jacketed fibers are required. Enclosures are supplied with a complete set of fastening elements and installation guidelines. Adapter plates and splice trays are ordered separately.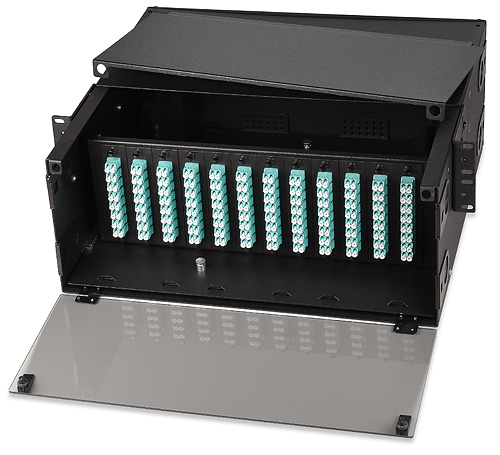 Product Videos
Custom Field
Product Reviews